Mavis Discount Tire Springville, NY
FOR IMMEDIATE RELEASE 12/1/2022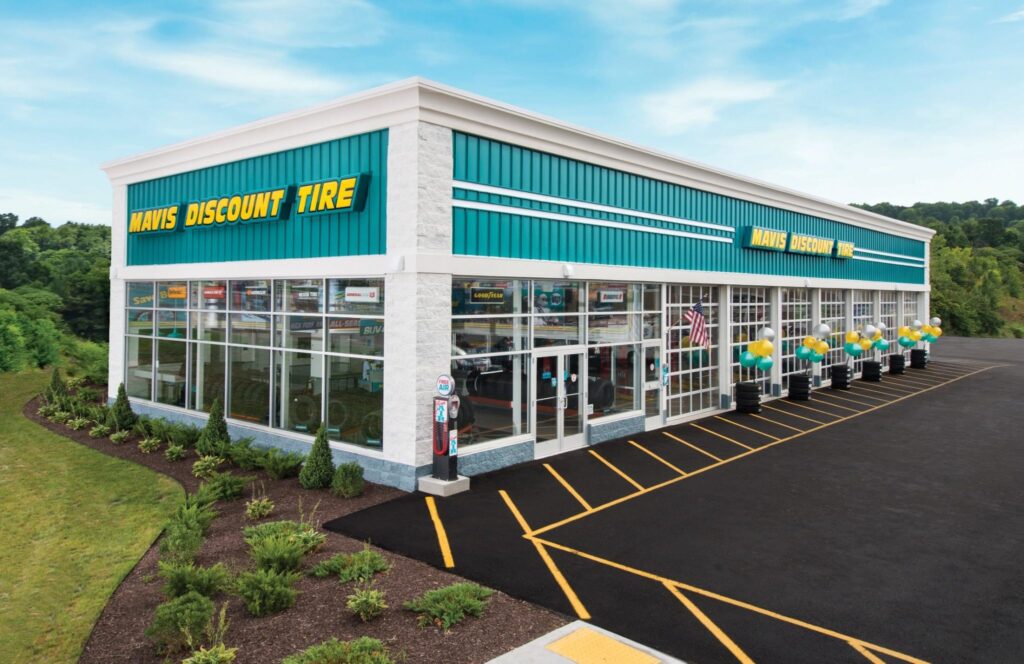 Roosa Development is proud to announce the opening of a Mavis Discount Tire store at 183 S. Cascade Drive in Springville, NY
Roosa Development is proud to announce the opening of a Mavis Discount Tire store at 183 S. Cascade Drive in Springville, NY. This new location will provide residents with convenient access to a wide range of tire services, including sales, installation, and maintenance. The Mavis Discount Tire store will offer a variety of tire brands and models to suit every need and budget, including options for cars, trucks, SUVs, and commercial vehicles. Customers can also take advantage of the store's state-of-the-art equipment and highly-trained technicians for tire services such as balancing, rotation, and alignments. "We are excited to bring this new Mavis Discount Tire store to Springville, NY," said Joseph Roosa, CEO of Roosa Development. "This location will provide our customers with the best possible service and selection of quality tires at competitive prices. We look forward to serving the community for all their tire needs." The new Mavis Discount Tire store at 183 S. Cascade Drive will be open Monday through Friday from 8 am to 6 pm and Saturday from 8 am to 5 pm. Customers can also take advantage of the store's online appointment scheduling system for added convenience. For more information about the new Mavis Discount Tire store in Springville, NY, please contact Mavis at 716-561-0025 or visit the store's website at https://www.mavis.com
About Roosa Development: Roosa Development is a leading real estate development company specializing in the construction and operation of retail/office / residential/industrial properties. With a focus on quality and customer service, Roosa Development is committed to creating vibrant, convenient shopping experiences for communities across the country. Visit Roosa Corporation's website at:
Roosa Development – A Real Estate Development Company roosacorp.com
U.S. Department of Veterans Affairs Springville, NY
FOR IMMEDIATE RELEASE 11/11/2020

Veterans Affairs of the United States opens New VA Clinic in Springville, NY 14141
Washington, D.C. – The Veterans Affairs (VA) of the United States is pleased to announce the opening of a new VA clinic in Springville, NY. The clinic, which will be located in the Roosa Development's Springville Village Shopping at 231 South Cascade Springville, is set to open on November 11th 2020. The VA clinic in Springville will provide a range of healthcare services to eligible veterans in the area, including primary care, mental health care, and specialty care. The clinic will also offer telehealth services, allowing veterans to receive care from the comfort of their homes.
"We are thrilled to be opening a new VA clinic in Springville," said VA Secretary Denis McDonough. "This clinic will help ensure that our nation's veterans receive the care and support they need and deserve. We are grateful to the Roosa Development team for their collaboration and support in bringing this clinic to the Springville community."
The VA clinic in Springville is part of the VA's ongoing commitment to providing high-quality healthcare services to veterans across the country. The VA currently operates over 1,200 healthcare facilities, including hospitals, clinics, and community-based outpatient clinics.
"We are honored to be a part of this project and to support our veterans," said the Roosa Corporation team. "We believe that the clinic will be an asset to the Springville community and we look forward to working with the VA to make it a success."
The VA clinic in Springville will be open Monday through Friday from 8:00 a.m. to 4:30 p.m. Veterans who wish to receive care at the clinic can call 1-800-827-1000 to schedule an appointment.
For more information about the VA's health care services and programs, please visit www.va.gov.
Media Contact: VA Office of Public Affairs 202-461-7600 publicaffairs@va.gov
WellNow Urgent Care
Opens in Springville, New York
FOR IMMEDIATE RELEASE 9/1/2020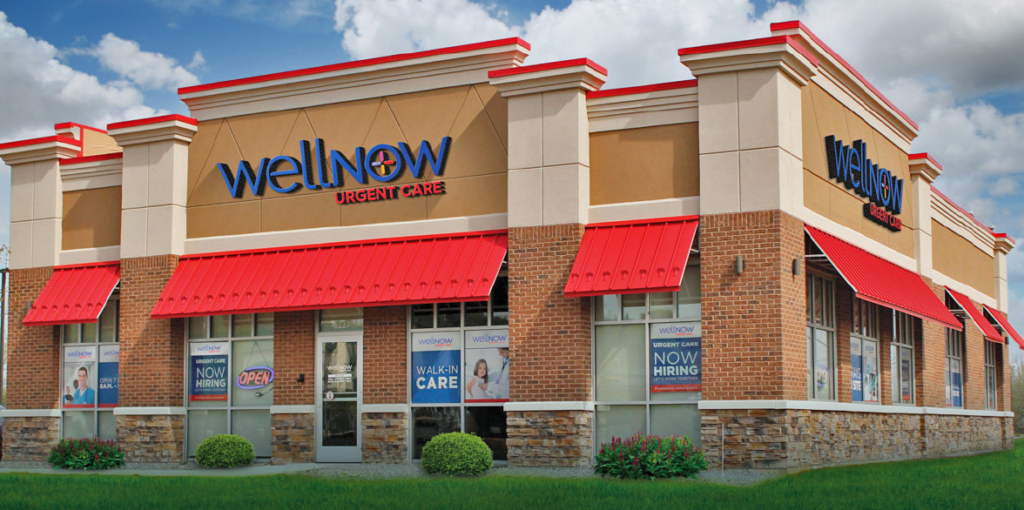 Roosa Developments Announces the Completion and Opening of WellNow Urgent Care in Springville, NY
Springville, NY – Roosa Developments is proud to announce the completion and opening of WellNow Urgent Care, a state-of-the-art urgent care facility located at 225 S Cascade Dr in Springville, NY.
The new facility offers a wide range of medical services, including treatment for illnesses and injuries, physical exams, lab work, and x-rays. The clinic is staffed by a team of highly trained and experienced healthcare professionals, including physicians, nurses, and medical assistants, who are dedicated to providing high-quality care to patients in the community.
The clinic is open seven days a week, with extended hours to accommodate busy schedules. Patients can walk in without an appointment and will be seen on a first-come, first-served basis.
"We are thrilled to be part of the new WellNow Urgent Care in Springville and to be able to bring a first class operation to the community. WellNow Urgent Care with its accessible and affordable healthcare services is a plus to the Springville community," said Joseph Roosa, President of Roosa Corporation. "Our goal is to make work with healthcare providers to help make health care as convenient and stress-free as possible for WellNow Urgent Care patients."
WellNow Urgent Care is committed to delivering quality healthcare services to the communities it serves, and the new WellNow Urgent Care is just the latest example of this commitment.
For more information, please visit the WellNow Urgent Care website or call (716) 599-1163.
WellNow Urgent Care is now open in Springville, New York
Roosa Development – A Real Estate
Development Company
Phone: 716-945-5165
T-Mobile North Windham, Ct
FOR IMMEDIATE RELEASE 8/13/2020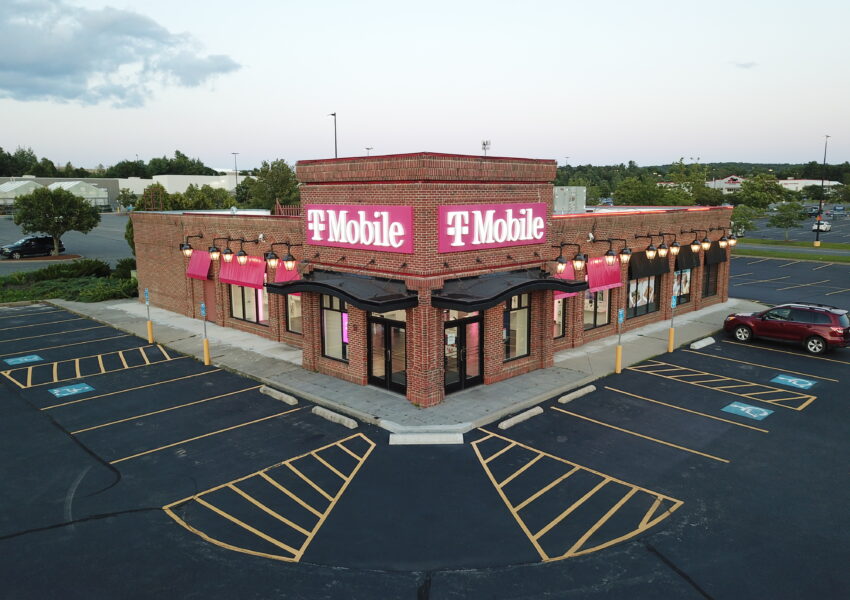 Roosa Developments announces the opening of T-Mobile in North Windham, CT North Windham, CT
Roosa Developments is proud to announce the opening of a new T-Mobile location at 6 North Ridge Drive in North Windham, CT. The store offers a wide range of T-Mobile products and services, including the latest smartphones, accessories, and high-speed internet services.
"We are thrilled to bring T-Mobile to North Windham, CT, and we are confident that the community will appreciate the convenience and quality of T-Mobile's products and services," said Kyle Roosa, Vice President of Roosa Developments. "We are proud to partner with T-Mobile to bring this new store to life, and T-Mobile looks forward to serving the North Windham community for many years to come."
The new T-Mobile store offers a convenient and welcoming environment for customers to explore and purchase the latest T-Mobile products and services. The knowledgeable and friendly staff are available to answer any questions and help customers find the perfect solutions for their needs.
"It was a pleasure working with the T-Mobile team on bringing this store to North Windham, CT," said Roosa. "Their dedication and commitment to providing the best possible customer experience is evident in every aspect of the store, and we are confident that our customers will appreciate their attention to detail and quality."
For more information about T-Mobile, call the North Windham store at (860) 931-7052 or visit their website at:  www.t-mobile.com
About Roosa Development: Roosa Developments is a leading commercial real estate development company committed to delivering high-quality projects that meet the needs of communities and businesses. With a focus on innovation and sustainability, Roosa Developments is dedicated to creating a first class building and value for its customers.
Contact: Kyle Roosa at Roosa Developments (716) 945-5165 kroosa@roosacorp.com
Marquette Savings Bank Meadville, Pa.
FOR IMMEDIATE RELEASE 10/1/2019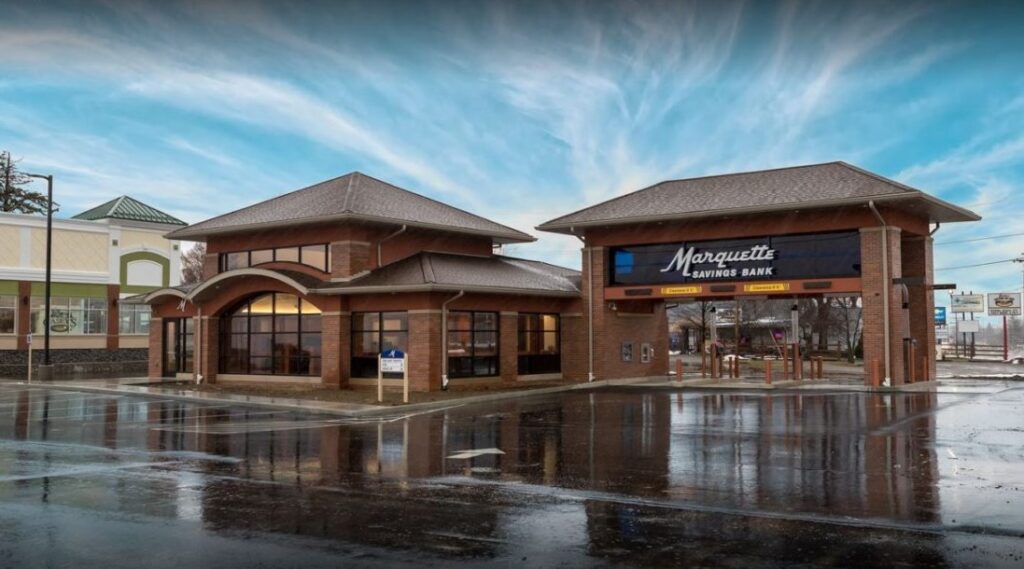 Roosa Developments, a leading real estate development company, is proud to announce the opening of Marquette Savings Bank's new free-standing building in the Meadville Village Shopping center.
The location with an address of 16272 Conneaut Lake Rd, Meadville, PA 16335 is adjacent to the Wal-Mart Super Center and provides easy access for customers in the Meadville area.
The new building features modern architectural design and is equipped with the latest technology to offer customers a seamless banking experience. Marquette Savings Bank is known for its commitment to the community and offers a wide range of financial products and services, including personal and business banking, mortgages, and wealth management.
"We are thrilled to partner with Marquette Savings Bank in bringing this new state-of-the-art facility to the Meadville community," said Kyle Roosa, Vice President of Roosa Developments. "This project is a testament to our commitment to providing high-quality, modern facilities that meet the needs of our tenants and their customers."
The Meadville Village Shopping center has been undergoing significant revitalization, and the addition of Marquette Savings Bank's new building is a welcome addition to the area. With easy access to major highways and ample parking, and drive through services, customers can conveniently access all of their banking needs.
"We are excited to open our new location in the Meadville Village Shopping center," said Marquette Savings Bank CEO Michael Edwards. "We are proud to be a part of this growing community and look forward to serving our customers with the same commitment to excellence they have come to expect from us."
The opening of Marquette Savings Bank's new building is a significant milestone for Roosa Developments, the Meadville Village Shopping center, and the Meadville community. With a commitment to excellence and a focus on community needs, Roosa Developments continues to lead the way in real estate development in the region.
Marquette is THE HOMETOWN BANK, and when you are THE HOMETOWN BANK, you look beyond the numbers to envision what could be. You see businesses growing and jobs created, families prospering and buying homes and lives changed for the better. Because when it's your hometown, it matters more. That is the Marquette Difference.
Call the Marquette Savings Bank in the Meadville Village Shopping Center today at Phone: (814) 724-1211 for your banking needs.
CASEY'S ICE CREAM
Meadville,Pa
FOR IMMEDIATE RELEASE 8/1/2018
Roosa Development, a real estate development company, announced today the conversion of an old metal building into a state-of-the-art building store for the iconic Casey's ice cream store.
The project, which has been in development for several months, is a testament to Roosa Development's commitment to revitalizing the community and promoting economic growth on a local level.
The new building store will feature a modern and spacious interior, with ample space for customers to enjoy Casey's signature ice cream flavors and a local flavor called "Meadville Mud". The exterior of the building will be designed with a classic look that will enhance the surrounding community and provide Casey's the opportunity to present an updated sign package.
"We are thrilled to be a part of this exciting project and to have the opportunity to work with Shawn Sullivan of Casey's to create a beautiful new space for their customers to enjoy," said Kyle Roosa, Vice President of Roosa Development. "We take great pride in our ability to transform old buildings into vibrant and modern spaces that serve the needs of our community."
The conversion of the building is just one of many projects that Roosa Development has undertaken to help revitalize the local community. The company has a long history of working with local and national businesses to create beautiful and functional spaces that enhance the community and promote economic growth.
Casey's ice cream store is a local institution that has been serving the community for over 25 years. The new building store will allow them to continue to provide high-quality ice cream to their loyal customers for years to come.
"We are excited to work with Roosa Development to create a new, modern space for our customers to enjoy," said Shawn Sullivan, owner of Casey's ice cream store. "We are grateful for their commitment to the community and for their dedication to helping local businesses grow and thrive."
If you would like more information on Casey's Ice Cream visit their website at https://www.caseysicecreamandcandies.com/ Or better yet stop in and enjoy one of the many flavors offered by this Iconic Ice Cream and Candy Shop. Casey's Ice Cream can be reached by phone at 814-333-3769.
The new building opened in 2018 and both Roosa Development and Casey's ice cream store are looking forward to welcoming customers to the store.
Advanced Auto Parts Springville, NY
FOR IMMEDIATE RELEASE 11/1/2017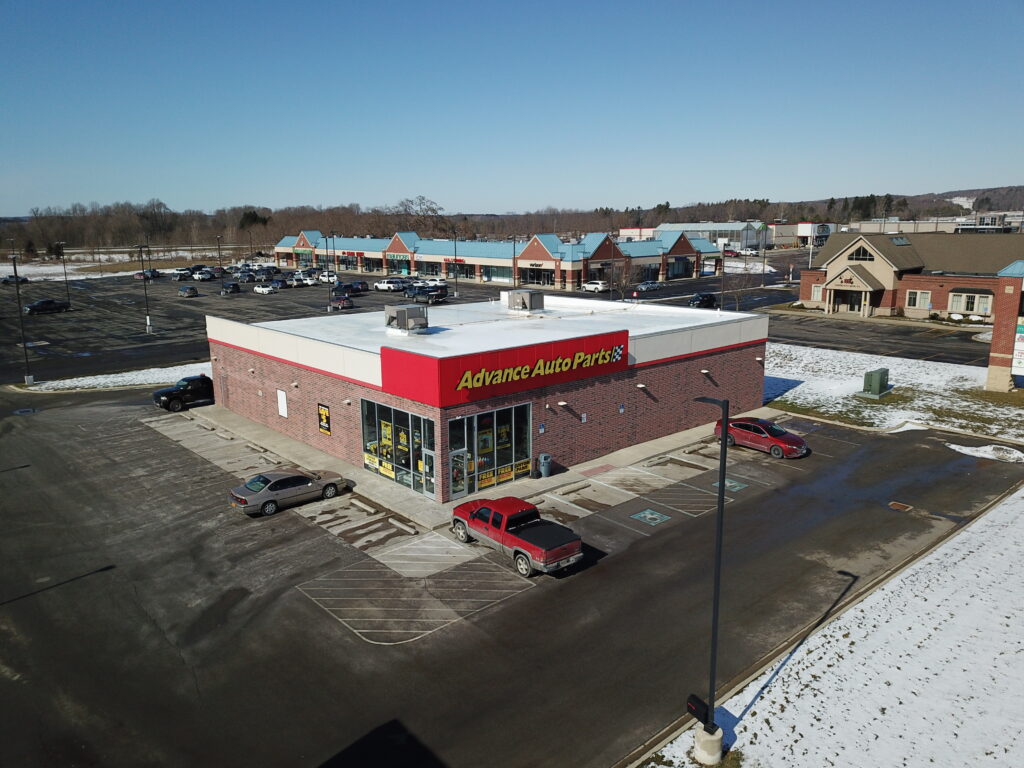 Advanced Auto Parts Opens New Location in Springville, NY
Springville, NY – Advanced Auto Parts is proud to announce the opening of its new location in the Roosa Development's Springville Village Shopping Center in Springville, NY. The store is conveniently located at 265 S Cascade Dr, Springville, NY 14141.
The new location is designed to provide customers with a superior shopping experience, offering a wide range of automotive parts and accessories. Whether customers are looking for new brakes, batteries, or any other type of auto part, Advanced Auto Parts has the products and expertise to help them get the job done right. Additionally, the store has a team of experienced professionals on staff who are always available to provide customers with expert advice and assistance.
"We are thrilled to open our newest location in Springville," said Mitch Recoon for Advanced Auto Parts. "We're committed to providing our customers with the best possible experience, and our new store is designed to do just that. We have a wide range of products available, and our staff is always available to help customers find exactly what they need. It has been a pleasure working with the professionals at Roosa Development and we are confident that this new location will be a great addition to the community."
The new Advanced Auto Parts store is open Monday through Saturday from 7:30 am to 9:00 pm and on Sunday from 9:00 am to 8:00 pm. Customers are invited to stop by and check out the store's impressive selection of automotive parts and accessories.
For more information, please visit the Advanced Auto Parts website at www.advanceautoparts.com
Advance Auto Parts: Car, Engine, Batteries, Brakes, Replacement, Performance & Accessories
Advance Auto Parts is your source for quality auto parts, advice and accessories. View car care tips, shop online for home delivery, or pick up in one of our 4000 convenient store locations in 30 minutes or less.
www.advanceautoparts.com
Call (716) 592-0421 to speak to a representative at the new Springville location.
About Advanced Auto Parts: Advanced Auto Parts is a leading automotive parts and accessories retailer, with over 4,600 stores throughout the United States, Puerto Rico, the U.S. Virgin Islands, and Canada. The company is committed to providing customers with the best possible shopping experience, offering a wide range of high-quality products at affordable prices.
The community at work
How to be a good corporate neighbor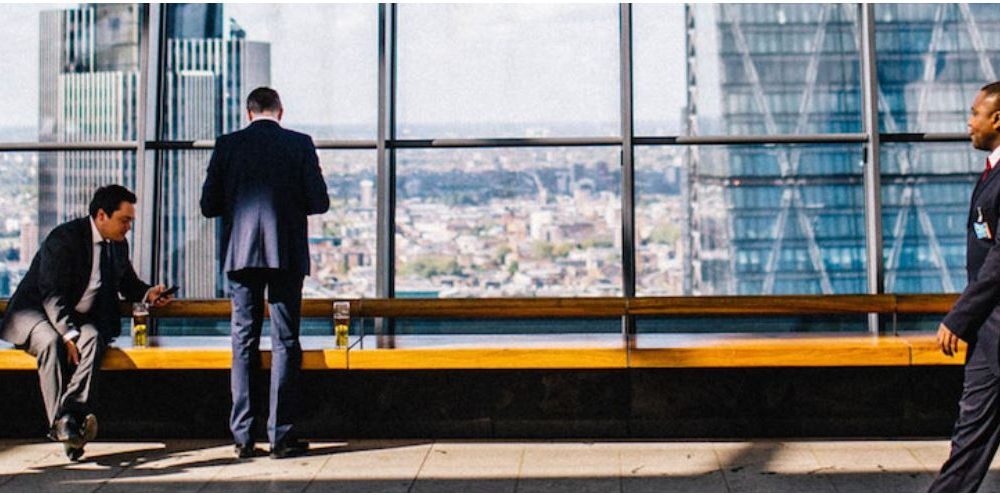 By Amanda Roosa
"How we spend our days is, of course, how we spend our lives." – Annie Dillard
The average person spends a third of their life at work. That's over 90,000 hours in a lifetime. With so many of our days spent at work, it's safe to say where we work affects our lives—not just the building itself, but the neighborhood and even the commute. That's why it's important that businesses take office design and, increasingly, their relationship to the surrounding community into consideration.
This latter endeavor is what placemaking is all about—it's a collaborative process meant to shape an environment in a way that strengthens the connection between the people that inhabit and share the space, to maximize value to everyone.
How we think about space, from West to East
The first roadblock to building community is to draw boundaries. Western concepts of space often involve boundaries—we are notorious for categorizing and organizing smaller things within larger things. Here's an example from Quartz: "An office is in New York City, which is in the United States. The sales team is inside the office, and Jules is a member of the sales team."
We spend so much time working inside buildings that it becomes dangerously easy to think of where we work as separate from our outside environment.
The East, on the other hand, seems to understand space in a more collaborative manner. For  example: "In Japan, a building can't be in Tokyo without Tokyo being in the building." In fact, the Japanese word tokoro is used to describe the location of something as well as a state of being. "The idea of place is indistinguishable from the historical, cultural, social, and other connections contained within it. The idea of tokoro therefore implies the idea of context, as the place is inevitably connected with all the activities around it," writes Jarrold McGrath.
We spend so much time working inside buildings that it becomes dangerously easy to think of where we work as separate from our outside environment.
No ivory towers
Western businesses could learn from Eastern concepts of space. While placemaking typically involves building community in public spaces, the process can be applied more broadly to any shared space. Millennials and younger generations are calling for businesses to have a positive impact on the wider community and one of the first things a company can do is turn its attention to its immediate surroundings. Understanding space with a more collaborative mindset can help prevent enterprises from colonizing neighborhoods and turning them into gentrified business parks—at least, not without giving something back.
For example, some tech companies like Airbnb, Google, and Facebook have made the news for providing nearly all amenities on site, creating workplaces "where tech workers get their own hermetically-sealed everything, from gyms to restaurants to transit" instead of becoming part of the neighborhood and part of a solution to community issues.
In an effort to get tech giants to engage with the community and boost local restaurants and businesses, Mountain View banned Facebook's new campus from providing a free cafeteria. Legislation supports this, stipulating that "companies cannot routinely fund more than 50 percent of employees' meals, but it can fully subsidize meals if they come from open-to-the-public restaurants."
Understanding space with a more collaborative mindset can help prevent enterprises from colonizing neighborhoods and turning them into gentrified business parks—at least, not without giving something back.
These tech companies give back to the community, but sometimes community-building can begin right out the front door. As Tiffany Apczynski, Zendesk's director of social responsibility advised in The Guardian, "Don't lock yourself up in your ivory tower."
Being a good neighbor pays in dividends
Beyond lunching out, a 2017 Deloitte study found that employees like it when businesses incorporate community involvement into the work day. "Of the 1,000 employees surveyed, the report concluded that 70 percent believe that volunteer opportunities boost morale more than company mixers." Community engagement helps create a positive work environment inside the office, and it also reduces turnover and positively impacts your bottom line.
Of course, creating shared community both inside and outside the office should also directly benefit external organizations, whether through volunteering or the longer-term impact of helping employees to feel like they have a stake in improving the environment where they spend so much of their time.
So how does one keep the doors to the ivory tower open? Try adopting a tokoro mindset and encourage employees to be responsible for understanding the area where they arguably live and work. As Director of Corporate Responsibility at Zendesk Megan Trotter advises, being a good neighbor is mostly about getting out and meeting the people around you. Try offering small group activities that allow employees to "have a conversation, find a commonality, and build community." Look for opportunities to lend existing skill sets to nearby nonprofits, schools, health and charity organizations, or maybe even just organize an informal "clean up the neighborhood" day or sponsor small group lunches out at local establishments as a starting point.
When done well, placemaking will and should affect the workplace and by extension, the community and even, ultimately, your life.
Where I Didn't Spend My $350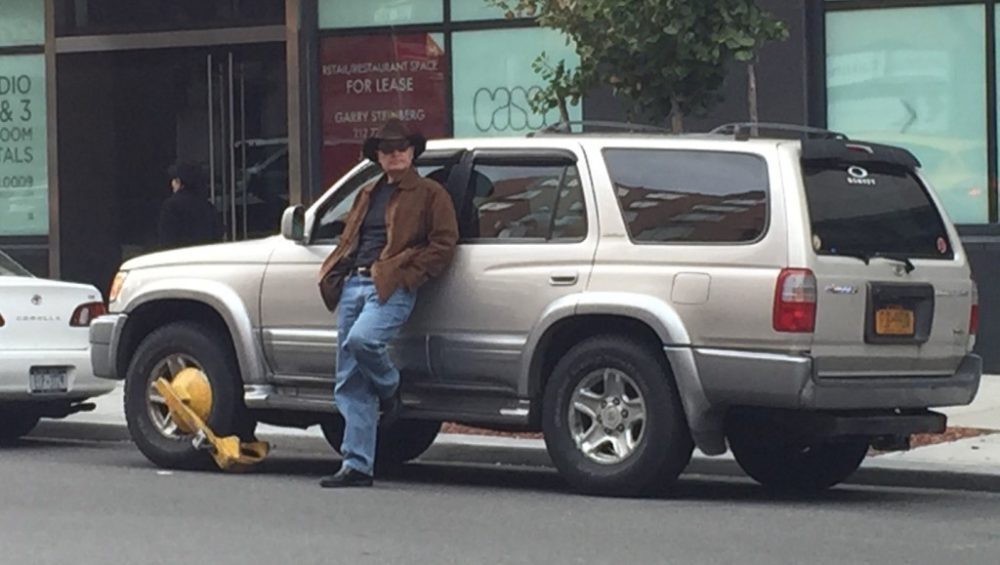 New York City is visited by thousands of people daily, and the streets are consistently flooded with vehicles of all kinds. It's a magnificent place, yet there are some tricky parking rules. There are multiple signs within the city that dictate whether or not people can park in certain areas, and these signs have confused countless visitors through the years.
Let me give you a personal example. One breezy Saturday afternoon, I decided to make a trip to New York City with my wife. It was a wonderful day, and we wanted to explore Hell's Kitchen market as well as enjoy a tasty meal from the Hell's Kitchen restaurant, which is located on 9th avenue between 38 and 39th streets. Once we arrived in the city and found a nice parking spot, I used my credit card to pay the $22 meter fee, which would ensure us ample time to do what we wanted to do.
The day was going well until I returned to the car. A boot had been placed on one of the wheels, and stickers were pasted all over the windshield. I was now faced with parking tickets and a warning. If I did not pay the ticket within two hours, I was to face further consequences. I had to stop everything I was doing and rush to Pier 76 to pay the $185 ticket. To make matters worse, there was an additional ticket in the amount of $115. Though I was able to pay the first ticket, I did not have the chance to pay for the second one. I had to mail it. This immediately became a burden, and the blissful day in NYC came to a screeching halt.
The government has placed its boot on my throat, and hung the sword of Damocles over my head. The fun-filled day we had planned suddenly became an exhausting and unpleasant one. This turn of events was solely due to the baffling road signs. It was only after we had paid and waited two hours that the boot was removed from our car. Before we could spend anything, we lost $350. This was an unexpected expenditure, and we were flummoxed by this incident.
Even though we tried to forget the incident had occurred and resume our day, we were not able to get past what, in our minds, was an unjust event. We had an original budget of $2000 to spend in NYC, and the incident stripped us of a good portion of that allowance. We didn't spend our money at Fish on Bleecker Street, nor Goorin Bros. Hats, or Frye shoes. We passed on Chelsea Market as well, and even avoided Macy's. Instead we decided to keep our money and spend it all in the local market.
There was a great lesson to be learned in all of this. The city allows any commercially licensed vehicle to park anywhere on the streets. This is quite bizarre. Tourism fuels the economy in NYC, and motorists often don't stand a chance of parking easily with all the restrictions placed upon them. Incidents like the one I had occur frequently. Even though the city infrastructure is not conducive to the well-being of any vehicle, if you're going to NYC, it would behoove you to drive a commercially licensed vehicle; you will definitely save a large sum of money at the end of the day. If not, you may find yourself facing the same fate I did.
It is true that all citizens must obey the rules of any city or town, especially the rules of the road. This ensures the safety of both the passengers in the vehicle and the pedestrians, but the road rules have to be communicated properly to the community. Signs are often misleading, and people constantly get confused.
On the other hand, it is necessary to allocate some parking spaces on either side of the street for passenger cars, especially in a city like New York. Commercial vehicles should have priority, but passenger cars have significance as well. It would be ideal if each side of the street was separately allocated. This would enable passenger cars to park without any inconveniences.
Incidents like mine create losses for the businesses in New York City. When visitors from other states or local areas face similar situations, I predict they'll start moving away from the city due to displeasure. Being one of the largest business cities in the world, it is not good for the reputation of the city. Road rules are incredibly important, but they should not be puzzling. The messages should be conveyed clearly to drivers, with little to no room for questions.

If you are planning to visit NYC anytime soon, remember this: Don't park your car and quickly leave the area. Before you leave, recheck several times to see if the spot is legally available. As I mentioned before, the best thing to do is visit the city with your commercially licensed vehicle. If not, you may unexpectedly lose money, as I did. I still can't believe I lost $350. I don't want others to experience the same misfortune, so make sure you understand the exact meaning of any and all road signs before you leave your car.
How to find a good real estate attorney
Real Estate, unlike most other businesses, is littered with a myriad of risks, complexities, sensitive legal processes and of course, lots of dicey negotiations. These, however, do not nullify the presence of the huge goldmine buried just underneath what you might want to describe as the 'obvious'. The old English proverb that says, "Where there's a will, there's a way", holds sway in commercial realty.
Rest assured if you have a competent attorney, you've little or nothing to worry about. Competence, however, isn't the only quality you want to look for when choosing a Commercial Real Estate Attorney. There are certain other equally important qualities that you want to keep in mind. Before I tell you how you can find or identify a good attorney, I'd like to give you the definition of what that is. This is by no means an exhaustive definition, but it does help you know where and how to look:
A good commercial real estate attorney is one who has both the expertise and the ability to help identify, negotiate and manage both imminent and potential risks regarding your realty, as well as help handle transactions, give legal advice, and draw up drafts of documents, agreements, and contract disputes, etc. This attorney must be one who has spent about sixty-five percent of his practicing years exclusively in real estate, (particularly commercial realty in the last five years), invests in real estate himself, and has a good number of full-time professional real estate investors as clients.
Now that we've established what the ideal qualifications need to be, let us proceed to learn about how to find one.
For some of us, doing a background check on our would-be attorney might help satisfy our curiosities. We want to know what college they attended, how successful there were academically, etc. As important as these things are, I've discovered that there are certain facts that speak for themselves, so I'd suggest recognizing an attorney's due diligence over certain other weightier details.
Your would-be attorney should be on the real estate committee of your local bar association, or be actively involved in the developmental processes of the ever evolving legal educational courses for the county. These are classes taught by lawyers, for lawyers. This invariably means that the class instructors must be in the upper echelon of their field. You might also want to consider finding out if he or she works for themselves, or if they're a partner in a small firm. Hiring a competent and experienced attorney from a big firm could also work for you, but you have to know that a letterhead from such a firm doesn't equal or guarantee quality. Besides, they are more likely to charge you more. While having prior experience at a major firm might be an added advantage, it is my observation that attorneys who run their own firms have more of a businessman's mindset and approach, since they themselves are in business. They are generally more open-minded about business related issues, flexible, and are usually more willing to work with you on price.
A WORD OF CAUTION:
While great attorneys will work with you on price, it's important that you DO NOT insult them by demanding that they charge you less, in exchange for increased patronage from you. You'd be portraying yourself as someone who isn't worth working with- at least not on a long-term basis.
When searching for a good commercial real estate attorney, researching their reputation is essential. It is recommended that you not only check with his clients, but his colleagues and peers as well. It would behoove you to obtain facts about how their business relationships have fared. You want to know if they've ever visited a client's site and talked to the construction workers on the frontlines, bought lunch for said workmen, and really listened to (and cared about) their concerns and issues regarding the project at hand. I'm talking about an attorney who is relationship-conscious; one who builds bridges, not walls. If he or she is proactively involved in every aspect of the job, it is sure to yield positive results and create a harmonious atmosphere. Regardless of how proficient and experienced an attorney is, if he or she isn't fully committed to your projects, he isn't worth your time or pay. You need someone who understands that you want a long-term business-relationship; someone who genuinely listens to your creative ideas about business, and is willing to work with you to achieve your goals.
Another important quality to look for is depth of understanding, and not just in matters related to commercial realty transactions. The lawyer should be well versed in the various laws and regulations that govern the industry, such as: apartment laws, contract disputes, commercial leasing, and property and risk management. In particular, you'd want find out how they've protected or defended their clients' interests- through legal advice, aggressive and thorough negotiations, contract preparations, and courtroom procedures. It is to your advantage if your would-be attorney excels at deciphering local land use codes. Bear in mind that an attorney's expertise is always necessary in resolving constructional disputes, dealing with mechanic's lien, and handling property defect, along with several other issues that could arise.
If you're wondering whether or not all of these qualities can be found in a single attorney, my answer is yes- an emphatic yes! It all depends on you; how dedicated you are to your business, and how thorough you want to be when deciding to entrust your business to the hands of a competent and dependable attorney. Like I mentioned earlier, a proactive, business-minded attorney is what you want. They should be actively involved in the evolving activities of the commercial real estate world. You wouldn't want to agree to entrust some very serious business to a rookie who, though hard-working and enthusiastic, wouldn't have the experience and necessary insight to successfully partner with you.
Or you could just call Blaine Schwartz at Lippes Mathias at  716-853-5100